ACTIVITIES
|
HOSPITAL WASTE INCINERATOR
Hospital Waste Incinerator
The construction of the Medical Waste Incineration Plant (MWIP)in the sanitary landfill area in Ano Liossia started on 1999 by the Joint Venture ANSALDO TECNITALIA S.P.A – ERGOCAT S.A– TOMI S.A. and was completed in June 2002. The total budget of the project was €7,341,626. The MWIP is operated by APOTEFROTIRAS S.A. (a 75% subsidiary of HELECTOR S.A.) on behalf of the Association of Communities and Municipalities of the Attica Region (ACMAR).

The incineration plant comprises of two identical incineration lines with a daily capacity of 15 tones each.
Each line consists of the following constituents:
Feeding system with belt conveyor or alternatively elevator
Rotary kiln feeding system
Rotary kiln Ø2,6m Χ 6,5m length with an inclination of 2° ("rotary kiln technology") for incinerating wastes at high temperatures (over 900°C)
Ash extruder
A post-combustion chamber designed to achieve a minimum of 850°C for the combustion gases with a gas residence time of at least 2 s.
One furnace burner and two post-combustion chamber burners to sustain the temperature
Cooling system for the exhaust gases constituting a fresh air exchanger and a cooling tower with injectors, to reduce the temperature from around 900-1000°C to 200°C.
A reactor and a bag filter for cleaning of the produced exhaust gases. The exhaust gases react with lime, active carbon and re-circulated ash from the bag filter inside the reactor.
Unit for the evacuation of the fly ash produced by the exchanger, the cooling tower and the bag filter.
Cooling tower, where re-circulated sodium hydroxide solution is injected in the exhaust gases to remove of contaminants not retained by the bag filter.
Exhaust gas fan and chimney.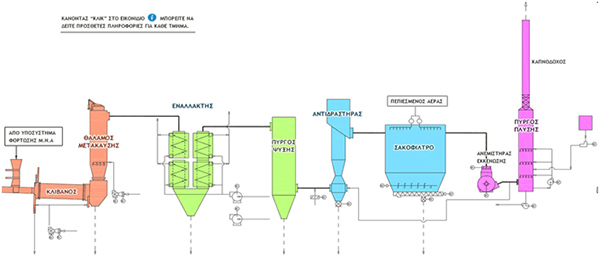 The pollutant levels in the produced exhaust gases in the after-combustion chamber are being recorded continually and automatically with the aid of analyzers (MAIHAK) and proper software. The operation of the plant is continually monitored and controlled from the control room through PLC systems and SCADA. Specially trained technical personnel are responsible of the plant.
The incinerator's operation complies with all the relevant environmental conditions under the current legislation and the 2000/76/EU European Directive.