TECHNOLOGY
Anaerobic treatment of organic waste
In the area of high polluting organic waste and sludge treatment (organic wastes resulting from agricultural activities – category 2 and 3 of the European Regulation EC 1774/2002), HELECTOR S.A. has undertaken the design, construction and operation of an anaerobic digestion plant (ADP) with an annual capacity of 15,000 tones of waste, that will produce biogas and high quality compost. The ADP will be connected to the existing landfill gas power plant with 5 MWe installed capacity, which is located in Tagarades Sanitary Landfill in Thessaloniki, Greece.

Part of the biogas will be provided to a microturbine (~50 kWe) proving that even in small sanitary landfills the exploitation of landfill gas is technically and financially viable.

The waste heat from the power plant will be further utilized to generate cooling energy via an absorption cooler. The resulting compost from the ADP will provide a sustainable solution for agricultural applications, while the liquid fraction will be forwarded for irrigation at the rehabilitated sanitary landfill. The thermal energy from the Power Plant will be utilized at a leachate treatment plant similar to the installation already operating in the sanitary landfill in Ano Liossia.

The energy coupling of the ADP, the Power Plant and, potentially, the leachate treatment plant, will have as an end result an Integrated Project that will operate at significantly low cost, achieving significant economies of scale.
The environmental impact from the considered project will further result to a "zero-emission" treatment scheme since:

1. the gas coming form the sanitary landfill and the anaerobic digestion will be treated in a power plant station instead of being emitted in the atmosphere, with considerably negative climate effects and global warming.
2. the organic waste as well as the animal by-products will be treated with an innovative state-of-the-art technology producing biogas and high quality compost.
3. the refused thermal energy from the power plant will be provided to the ADP and the leachate treatment plant.
4. the resulting compost will be utilised in farm applications.
5. the liquid effluents will be used for landfill irrigation (recycling).
Hence, the overall integrated facility will provide a sustainable solution for the waste heating content treatment (as substitute to the conventional fossil fuels) generating high quality materials (organic compost) and finally, the limitation of the negative environmental effects resulting from released landfill gas and the disposal of animal by-products and leachate that are rich in organic contaminants.

The following Figure 2 describes the integration of those three systems.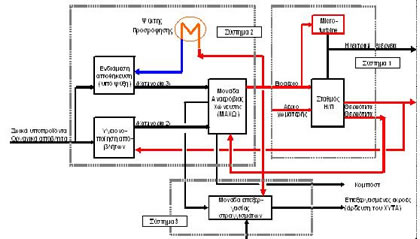 Figure 2: Integration of Power Plant, Anaerobic Digestion Plant and Leachate Treatment Plant in Tagarades Sanitary Landfill
View also
| | |
| --- | --- |
| | |
| | |
| Anaerobic treatment of organic waste | |